Decorative Vs. Collectible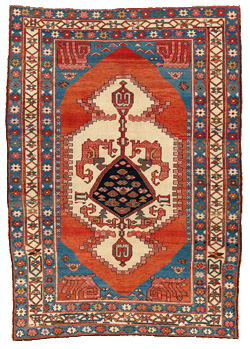 BAKHSHAISH (VILLAGE), PERSIA, 19TH C (4TH Q)
I have often been asked to explain the difference between a decorative and a collectible rug. A simple explanation is that antique rugs that collectors are interested in are collectible, and ones that they aren't are decorative. That said, let me try to lay out some important differences and how the market is affected as a result. 
I have many clients who do not consider themselves rug collectors. Yet, they are certainly forming a collection in what they are investing in for their home. They may be buying antique furniture, fine art, ceramics, silver and rugs. Their concern isn't whether they are buying a nomadic, village, or workshop rug; rather, that whatever they buy needs to work well with their decor. Many times I see what I consider to be a rug with significant collectible value find it's way into a home to be surrounded by many other wonderful things. My hope is that the owners become thoughtful custodians of the piece, so that it will remain in good condition for decades to come.
Most collectors I know form collections based on their interests in particular types of village and nomadic rugs (Learn more about rug types here). Because these rugs were woven informally in the home primarily for domestic use, a village or nomadic rug conveys a great deal of history about the weaver, the culture she came from, and what she was trying to express. Collectors are often drawn to antique village and nomadic rugs because they are quite compelling.
Although there are collectors of workshop carpets, I don't meet them as often. Antique rugs that were woven in workshop settings, where the weavers were being paid a daily wage to render a design that was created by someone else, generally are thought of now as being for the decorative market. Often designed with the export market in mind, they are subject to wider fluctuations in value than antique nomadic or village pieces. Fashions change, and decorative rugs are vulnerable to fluctuating taste in interior design. There are, of course, exceptions. Some of my favorite antique rugs come from cottage industry workshops in Northwest Persia, and were not expensive rugs when they were made. The Bakhshaish rug shown in the above illustration is a good example. Because of the rug's lowly status, the weavers were free to create what they wanted and, as a result, there is a wonderful degree of expression. Today, these rugs are considerably more valuable than many of their urban workshop counterparts, exemplified by the Kirman carpet in the next illustration.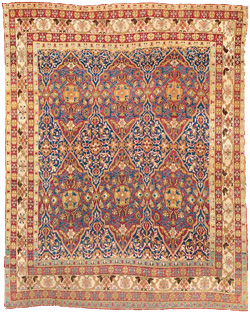 LAVAR KIRMAN (WORKSHOP) PERSIA, LATE 19TH CENTURY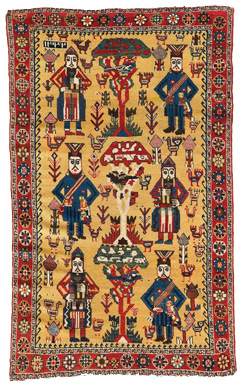 QASHQAI PICTORIAL (NOMADIC) PERSIA, LATE 19TH C.
I am quite impressed that, through all the economic turmoil of the past two years, the collectible antique rug market has remained vibrant and the collector's passion undaunted. The decorative antique rug market remains sound, and the economy has prompted decorative rug buyers to be particularly selective. The demand for semi – antique rugs has dropped, as have the prices, because of competition from new reproductions. Whether you are looking for a decorative rug to enhance your living room, or a Kuba to add to your collection of Caucasian rugs, your best bet is to proceed thoughtfully and to buy the best example you can. Beautiful rugs, whether collectible or decorative, will always hold their value.