One of my favorite expressions is: the three most important aspects of rugs are color, color, and color. I can't overstate how true this is. A great design with poor color is far less desirable than an average design with great color.
There are six main things I look for when evaluating a rug. I encourage you to carefully consider each of these when selecting the right rug for you.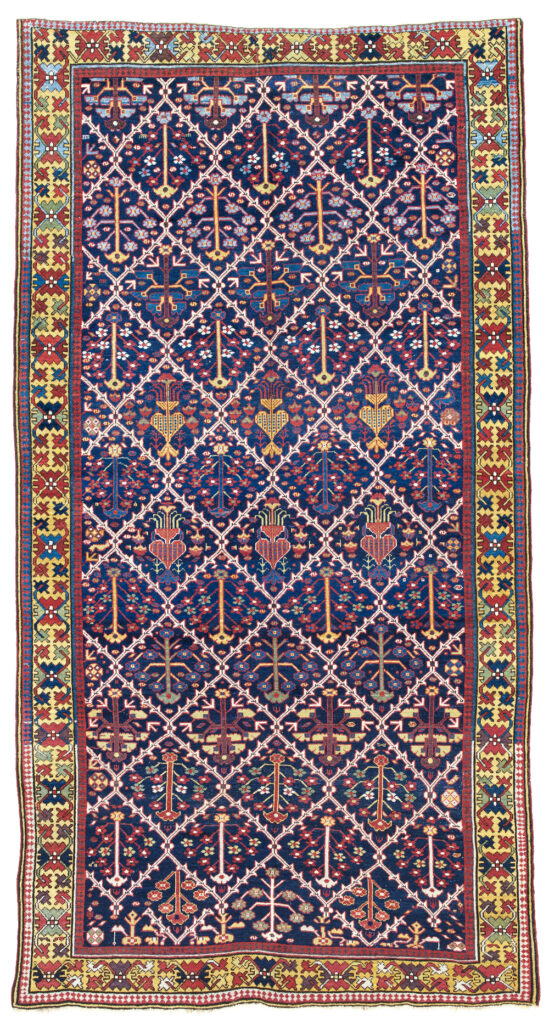 19th Century Northwest Persian
What is great color? Natural (vegetal and insect) dyes produce wonderful saturated earthy colors with lots of subtle shading within one dye lot, which we refer to as "Abrash." 
Abrash can also be the result of different dye lots being employed by the weaver while working in one area of the rug. Rug collectors tend to seek out rugs that contain all natural dyes. While they won't rule out acquiring a great rug that has a small amount of synthetic dye, it has to be an example that is otherwise hard to find. You don't see Abrash in a synthetic dye. For example, if you have a rug with a synthetic red field, there is no shading whatsoever.
Dr. Jon Thompson, in one of his lectures said, "Looking at a rug with no Abrash is like listening to a violin piece with no vibrato." Color defines a beautiful rug.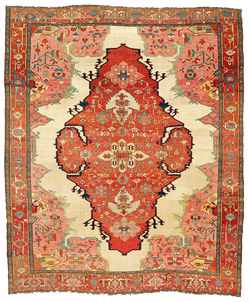 Late 19th Century Persian Serapi
Design reflects the planning, skill, and creativity of a weaver and can even reflect a dialogue, similar to the call and response of jazz improvisation, between multiple weavers of the same rug. 
Judging design is part gut feeling and part recognition of the subtle differences among a large number of rugs. 
There are several elements of design, including (but not limited to) the use of space, shape, detail, proportion, balance, and harmony. Broadly speaking, good design is a subjective measure of preference between rugs, but within rug types we can more objectively judge the quality and appeal of design.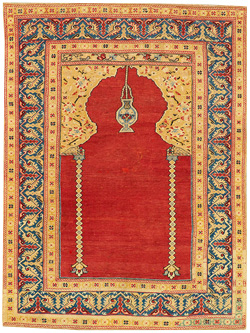 17th Century Transylvanian Prayer Rug
As with any antique, rarity increases the value of a rug. Rarity can go beyond the age of a rug to include uniqueness of artistic vision and execution.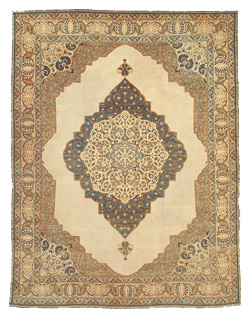 19th Century Persian Tabriz
Craftsmanship describes the quality of the wool and dye and the skill of the weaver. For the most part, I prefer the rug to be rectilinear and lay flat, but I don't rule out a rug that is crooked if it has great merit, especially if it is a tribal or village rug.
It is worth noting that knots per square inch is not the sole measure of quality, wearability, and craftsmanship. The number of knots per square inch will vary by rug type and be larger for workshop rugs than for village or nomadic rugs. More important are the quality of the wool, the dye that was used, and the skill and care involved in weaving the carpet.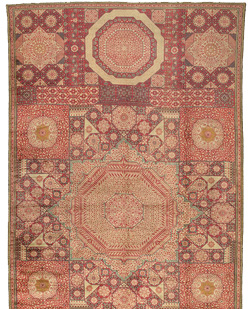 Early 20th Century Anatolian Oushak
With antique rugs, we want to get as close to original condition as possible. Although, in general, antique oriental rugs are extremely well made and durable, decades of use can sometimes result in deterioration of the pile, color, selvedge, etc. 
In judging a rug's condition, I assess the degree of pile wear and the amount of color fading or bleeding. I also determine whether the rug has been antique washed (a bleaching process) to dampen the colors. Is the rug complete, or has someone tried to repair the rug by cutting off edges or borders? I also consider the amount and quality of the restoration (the rarer the rug, the more restoration is acceptable). Finally I assess whether the rug has any moth damage or dry rot.
Although rugs in great condition are highly desirable, a little bit of wear also gives character to many rugs.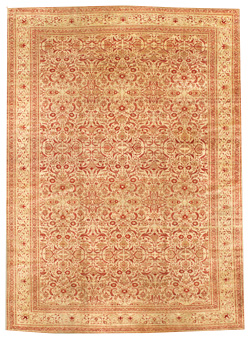 19th Century Persian Tabriz
When it comes down to it, the real decision is just about overall feel. Is the rug beautiful? Is there good use of color, creativity, balance, scale, proportion, and harmony? If you love a rug, that is really all that matters. 
Whether your search for enjoyment of rugs rests with enhancing your décor or building a collection, let your soul guide you and trust your taste and instincts. It will be well worth it.