Investing in Antique Oriental Rugs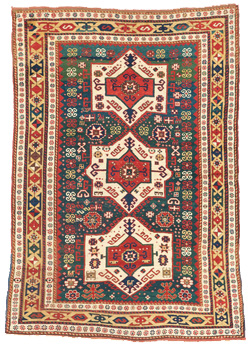 Fachralo Caucasian 19th Century
I'm inspired to write on this subject as I witness investors' assets evaporating in some areas of the financial markets. I have always felt that high-quality antique oriental rugs are a very safe place to park your money. If you plan to live with beautiful rugs for the rest of your life, once you've made the investment, antique oriental rugs are "the gifts that keep on giving." As an added bonus, the dividend a great rug pays is the enjoyment of beauty that you get every day you cast your eyes on it.
Rugs have a history of appreciating in value over the long term. For this reason, I always advise my clients to take the long view, much as they would with a blue-chip stock. The most significant appreciation takes place over the span of a generation. Rugs bought in the early 20th century realized dramatic gains when they re-entered the market in the 1960s and 1970s. Similarly, the "right" rugs bought in the 1960s and 1970s are worth dramatically more today.
Unfortunately, as with investing in the stock market, there are no guarantees. Not all rugs are "right," and many rugs have not appreciated at all (worse yet, some have depreciated!). That's why it is essential to buy the best rug you can afford, and to buy it only from a reputable dealer.
What steps can you take to ensure that you buy the right rug, at the right price, at the right time (the three keys to successful long-term investing in any commodity)? 
1. Buy only from a reputable, established dealer and never at auction.
 A rug bought from a reputable dealer can always be traded back for a full credit if it has been properly maintained. This gives you the ability to "trade up" as your tastes change. (Read our trade-in policies.) More important, rugs purchased from established dealers come with a guarantee as to authenticity and condition, while most rugs purchased at auction are sold "as is," with no guarantees. 
Antique oriental rugs are not primarily valued for their liquidity. Rugs rarely appreciate in the short term, but if you are forced to sell, the reputable dealer who sold you the rug should be willing to help you re-sell it.
3. Buy rugs appropriate to the way in which you want to use them, and always follow care recommendations.
A good rug will last a lifetime if it's properly cared for. For example, Peter Pap Oriental Rugs advises clients as to which types of rugs are best for particularly heavy traffic patterns so there are no surprises down the road
4. Buy "against the curve."
Investing in rugs that are not "hot" increases the likelihood that your rugs will hold their value and potentially appreciate over the long term.. A number of rug types are currently undervalued, in my opinion, including antique kilims, tribal rugs, village rugs, and rugs with bold designs and saturated color. Many of these rugs are currently out-of-favor with current interior design trends and are therefore undervalued.
Following these tips does not guarantee that your rugs will be worth more if you or your heirs choose to sell them, but it does improve the odds for realizing a gain on your investment. And in the meantime, you have exceptionally beautiful objects to enjoy over and over again.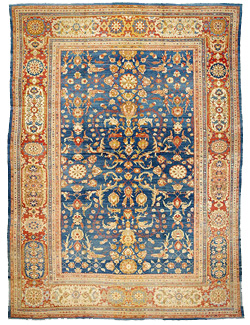 Ziegler Mahal Northwest Persia 19th Century (second half)