The Right Rug for Your Space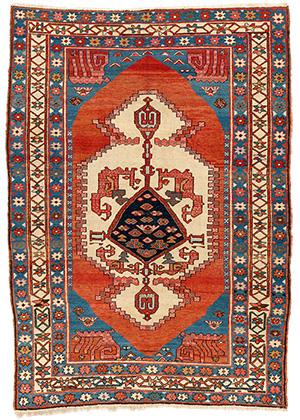 When you put an antique rug on the floor, you are renewing its lease on life and ensuring that all its beautiful characteristics of color, design, weave pattern and material will be available for others to enjoy for many years to come. Knowing that it has been around for a century or more should give you confidence that you can shepherd it through several more decades without an appreciable change in it's condition. However, the selection of a rug should be based on its type, condition, location and traffic patterns, and obviously, its size and design. Foyers, sitting areas, and dining rooms each warrant different selection criteria.
In a foyer or entry that get heavy use, choose a densely knotted, heavier rug that still has much of its original pile height. The selvedges (side wrapping) should not have any bare spots and the ends should be secured (with some sort of overcastting stitch) to prevent the unraveling of rows of knots. Also make sure your rug is placed on a proper rug pad and that the pad is trimmed to a size that is one inch smaller than the rug in every direction.
For a sitting area that is not in a traffic pattern, a more fragile antique rug — even one with considerable wear — can be used, and it can be expected to last a long time. As with rugs in foyers and entries, maintaining the ends and edges will go a long way towards prolonging its life.
Dining room rugs present a unique challenge. Rugs in this space must be large enough so that the chairs do not rake across the edge of the rug when pushed away from the table and subsequently pulled in. Some people assume a dining room represents high wear and tear for a rug, when actually, dining rooms don't get used all that often in most homes, and rarely have traffic patterns across the rug to other rooms.
Naturally, design and aesthetics matter, and tastes differ. However, to ensure the longevity of your rug, pay close attention to its construction, condition, and placement in your home or office. Your rug will serve you and yours for generations to come.